China's Grandest Festival & Longest Public Holiday
Chinese New Year, also known as Spring Festival or Lunar New Year, is the grandest festival in China, with a 7-day long holiday.As the most colorful annual event, the traditional CNY celebration lasts longer, up to two weeks, and the climax arrives around the Lunar New Year's Eve.
Time for Family Reunion
Like Christmas in Western countries, Chinese New Year is a time to be home with family, chatting, drinking, cooking, and enjoying a hearty meal together.
When is Chinese New Year?
the universal New Year observed on January 1st, Chinese New Year is never on a fixed date. The dates vary according to Chinese lunar calendar, but generally fall on a day between January 21st and February 20th in the Gregorian calendar,the date of this year as follow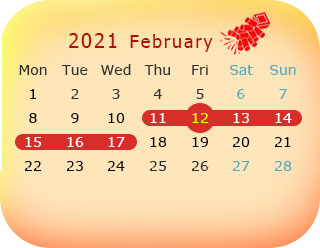 Why is it called Spring Festival?
The festival date is in January or February, around the Chinese solar term the 'Beginning of Spring', so it is also named the 'Spring Festival'.
 How do Chinese people celerate the festival?
When all streets and lanes are decorated with vibrant red lanterns and colorful lights, the Lunar New Year is approaching. What do Chinese people do then? After half a month's busy time with a house spring-clean and holiday shopping, the festivities kick off on the New Year's Eve, and last 15 days, until the full moon arrives with the Lantern Festival.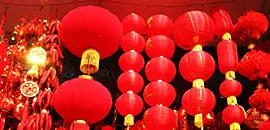 Family Reunion Dinner – New Year's Eve
Home is the principal focus of the Spring Festival. All Chinese people manage to make their way home at the latest by New Year's Eve, for a reunion dinner with the whole family. The essential course on all Chinese menus for a reunion dinner will be a steamed or braised whole fish, representing a surplus every year. Various kinds of meat, vegetable, and seafood are made into dishes with auspicious meanings. Dumplings are indispensable for northerners, while rice cakes for southerners. The night is spent enjoying this feast along with cheerful family talk and laughter.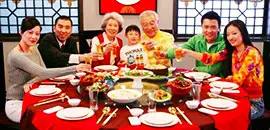 Giving Red Envelopes – Best Wishes through Money
From newborn babies to teenagers, luck money will be given by seniors, wrapped in red packets in the hope of dispelling evil spirits from the kids. CNY 100 to 500 notes are commonly sealed in a red envelope, while there are big ones with up to CNY 5,000 especially in the rich southeast regions. Besides a small disposable amount, most of the money is used to buy the kids toys, snacks, clothes, stationery, or saved for their future educational expenditure.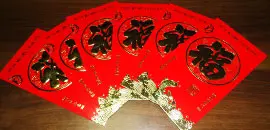 With the popularity of instant messaging apps, greeting cards are seldom seen. From the morning to the midnight of the New Year's Eve, people use the app Wechat to send various text messages, voice messages, and emojis, some of which featuring the New Year's animal sign, to exchange greetings and good wishes. Digital red envelopes are becoming considerably popular and a big red envelope in a group chat always starts a happy grabbing game.

nd Greetings and Red Envelopes through Wechat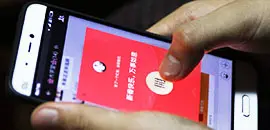 Watching CCTV New Year's Gala – 20:00 to 0:30
It is undeniable that the

 
CCTV New Year's Gala
 

is China's most watched television special, despite the declining viewership in recent years. The 4.5-hour live broadcast features music, dance, comedy, opera, and acrobatic performances. Although the audience becomes more and more critical of the programs, that never stops people turning on the TV on time. The delightful songs and words act as a habitual background to a reunion dinner, for after all it's been a tradition ever since 1983.
What to Eat – Priority of the Festival
In China, an old saying goes 'Food is the first important thing for people' while a modern saying '3 pounds' weight gain atevery festival.' Both show the Chinese people's love of food. There probably are no other people quite like the Chinese who are so passionate and fastidious about cooking. Besides basic requirements of appearance, smell, and taste, they insist on creating festival foods bearing auspicious meanings and bring good luck.
                         New Year Menu from a Chinese Family
Dumplings

– salty
– boil or steam
– symbol of fortune for its shape like an ancient Chinese gold ingot.

Fish

– salty
– steam or braise
– symbol of a surplus in the year end and good luck for the coming year.

Glutinous Rice Balls

– sweet
– boil
– round shape standing for completeness and family reunion.
.
---
Post time: Jan-28-2021