Ear clamps are used to connect a hose to a pipe or fitting. They have a metal band that protrudes like an ear, hence the name of them. The sides of the ear are gripped together to tighten the ring around the hose to hold it in place. 
Here are Five Types of Ear Clamps 80Pcs 1/4″-15/16″ 304 Stainless Steel Single Ear Hose Clamps Pex Pinch Clamp Assortment Kit with Ear Clamp Pincer for Securing Pipe Hoses and Automotive Use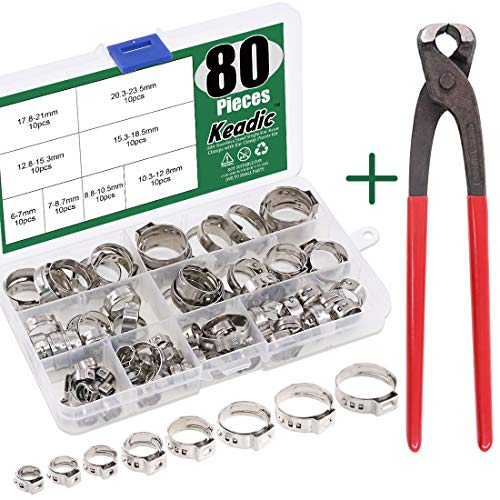 Constructed of stainless steel, these clamps are resistant to corrosion resistant and will not rust. Their special cochlear design offers a strong thermal expansion compensation function which helps to keep the hose securely in place.
These clamps are single-ear and covers eight common sizes, including 6-7mm, 7-8.7mm, 8.8-10.5mm, 10.3-12.8mm, 12.8-15.3mm, 15.3-18.5mm, 17.8-21.0mm, 20.3-23.5mm. These ear clamps are widely used for hoses and plastic pipes, and work very well when it comes to the hoses of beverage machines, boats, motorcycles, vehicles, and even industry.
This convenient kit includes an ear clamp pincher with a handle coated in plastic which helps when installing to single ear hose clamps, double ear, or stepless clamps.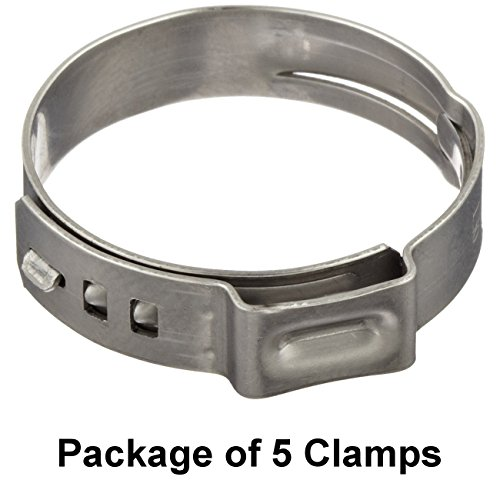 This is a genuine Stepless clamp made of stainless steel material that prevents it from rusting. It has a lightweight 360° stepless design that means there are no steps or gaps at the inner circumference. This allows for a concentrated seal compression with its narrow band. It also has a specially formed strip edge that minimizes the risk of damage to the part of the hose that is being clamped.
Proster 130pcs Hose Clamps Rings 7-21mm 304 Single Ear Stepless Hose Clamps Assortment Stainless Steel Cinch Clamp Rings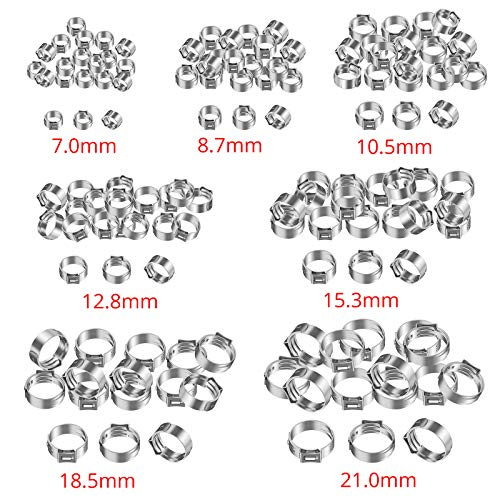 Corrosion-Resistant, these high precision single ear stepless hose clamps are constructed from 304 stainless steel and will not rust so they are great for long-time use. An increased clamp force allows them to be used to seal an array of types of hoses as the pincers can increase the clamping force. These clamps work great for repairing pipes and plumbing systems.
Not only are these clamps created from 304 stainless steel, but they are also resistant to rust and corrosion. They are able to seal quicker from their cochlear design that facilitates thermal expansion compensation. They are easier to use since they have magnetic ability to hold them in place.
This single ear hose clamp set covers inner diameter range of 6-28.6mm (10 common sizes, 10 pcs for each size): 6-7mm, 7-8.7mm, 8.8-10.5mm, 10.3-12.8mm, 12.8-15.3mm, 15.3-18.5mm, 17.8-21.0mm, 20.3-23.5mm, 22.4-25.6mm, 25-28.6mm.
IEUYO Single Ear Hose Clamps Assortment Kit, StepLess Ear Clamps, 304 Stainless Steel, Adjustable Diameter Different Sizes Fit Diameter Range From 7.8mm To 25.6mm,8Sizes, 96PCS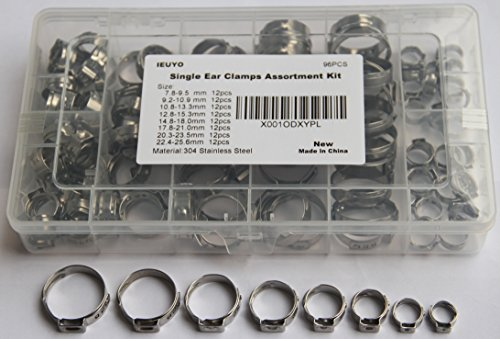 Made of 304 Stainless Steel, this clamps is resistant to corrosion and ruse for long-lasting ability. Its inner ring offers radial guidance for better sealing and the size ranges from 7.8mm to 25.6mm when its open. This type of clamps is easy to use for vehicles, tractors, ships, any gasoline engine, and home improvement projects.
ISPINNER 80pcs 304 Stainless Steel 5.8-23.5mm Single Ear Stepless Hose Clamps Assortment Kit, Cinch Clamp Rings 1/4″ – 15/16″ by ISPINNER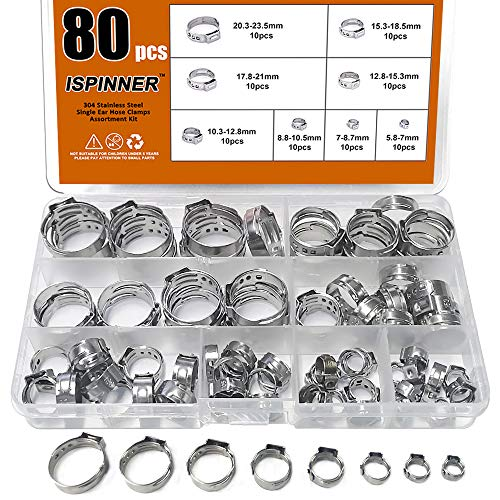 Made of 304 stainless steel and rust and corrosion-resistant, this ear clamp set comes with 80 pieces and covers eight common sizes, including 5.8-7mm, 7-8.7mm, 8.8-10.5mm, 10.3-12.8mm, 12.8-15.3mm, 15.3-18.5mm, 17.8-21.0mm, 20.3-23.5mm ( 5.8mm-23.5mm)
This clamp offers 360 degrees seal protection so there is no protrusion or gap in the inner, narrowband design.
The portable plastic box these clamps come in will make it easier for you to store and use these awesome clamps.
---
Post time: May-13-2021